Our ASPIRE graduate framework underpins our efforts in teaching and learning at Xavier. We strive to develop aspiring, spiritual, positive, inspiring, resilient and empathetic young men who will provide outstanding service and leadership in our world.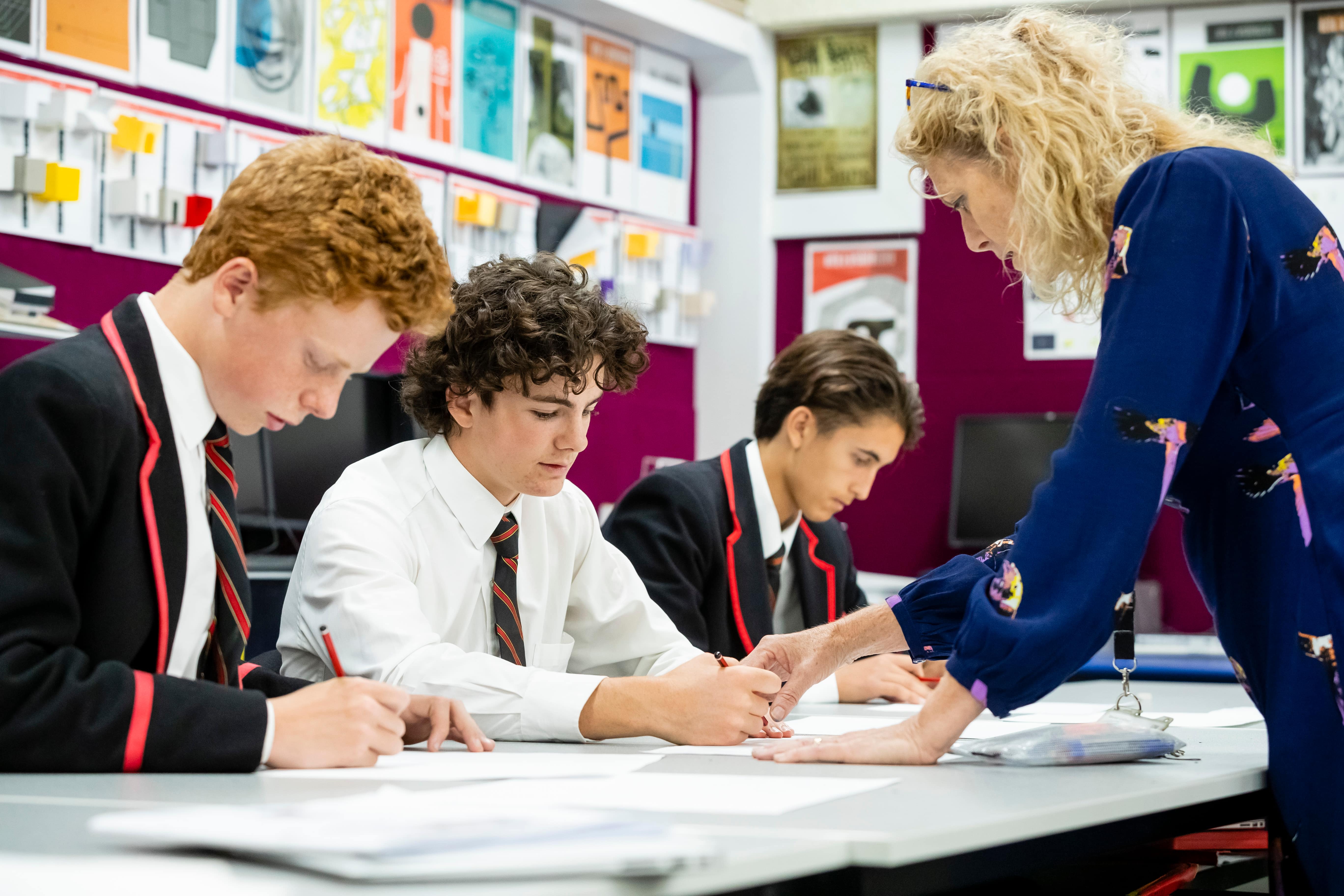 In the Jesuit tradition, the Ignatian Pedagogical Paradigm (IPP) encourages students to adopt a lifelong love of learning and a focus on understanding, experience and reflection in their studies, involvement in social justice programs, performance on the stage and participation on the sporting field.
Our commitment to the IPP leads to all of our teaching staff completing professional learning so they can embed the key stages of the IPP (context, experience, reflection, action and evaluation) into their subject planning and classroom practice.
At Xavier College, our curriculum is guided by the development of the whole person, a commitment to social justice and a global way of thinking, engaging and understanding. A Jesuit education encourages independent thinking, reflection, and discernment.
Recognising the importance of being lifelong learners, all of our staff participate in fortnightly professional learning that ensures staff are fully equipped with 21st century best practice teaching strategies and a focus on innovation and ICTs for learning ensures contemporary best practice.
Our curriculum offers our students the breadth of options to find their passion and to develop their God-given gifts, but also the structure to ensure that they have a strong basis of knowledge to prepare them for any path ahead. This has been the basis of the curriculum since the very beginning of Jesuit education and speaks to what we value most about education and curriculum as a holistic human endeavour.
We encourage our students to think critically, and wherever we can, give students agency over their own learning. We provide a dynamic curriculum with a number of subject options across English, Humanities, Maths, Science, Languages, Digital & Design Technologies the Arts and Religious Education, as well as this we offer extensive Sport, Music, and Performing Arts programs to all students. In all curriculum areas, we follow the Victorian Curriculum, in either the F-10 or the VCE.
As part of our commitment to ensuring that every student feels known, heard and understood, Learning Diversity covers the individual needs of students at all year levels, focusing on a spectrum of learning, socio-emotional and neurodiversity that also includes gifted and talented programs. In addition to the formal learning that students access through classroom teachers, we offer a number of supports that allow students to access tutoring support before and after school.
Prep - Year 6
At the Junior School
In the Early Years of Junior School, a deliberate focus on the core learning areas of Literacy, Numeracy and Digital Technologies takes precedence. These key areas of curriculum are designed around our Expeditions (outdoor education) program and provide students with a rich stimulus for learning. Our Expeditions program enriches and extends students' learning beyond the classroom, to our stunning local environment where weekly adventures foster a sense of wonder and discovery. 
Our significant curriculum shift in Years 3 and 4 challenges students to become academically courageous. Through connections to industry and the application of knowledge to real-world contexts, our approach to learning is innovative, future-focused and driven by our bespoke ASPIRE curriculum framework. 
The proud tradition and structure of our Middle Years program, offers a secondary school learning approach across Years 5 and 6. This exceptional educational experience lays the strong foundations required for a successful transition to the Xavier College Senior School, academically, socially and spiritually.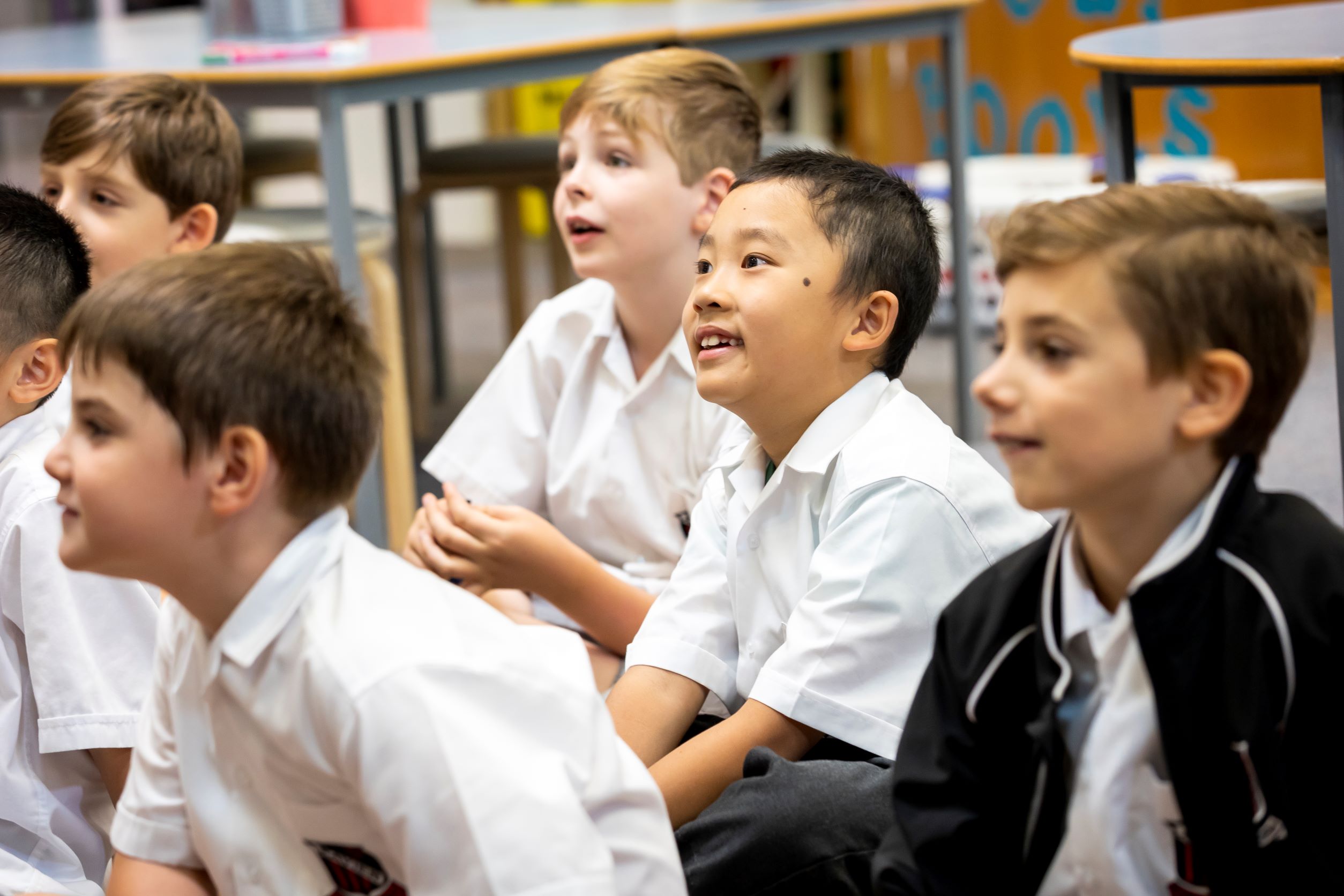 Year 7 and 8
At the Senior School
Year 7 and 8 are located at the Senior School at Barkers Road, Kew in the dedicated Kostka Precinct. A Jesuit education prioritises the development of the whole person. In the tradition of Jesuit education, we offer a Liberal Arts curriculum. In practice, students participate in Major Studies that include Languages, Arts and Music at Years 7&8. Our Jesuit identity is reflected in our curriculum makeup, the framework of how our curriculum is structured at 7&8 includes; Core Curriculum, Major Studies and Electives. As students' progress through to the senior years, the Major Studies carry through years 9&10 and elective offerings expand.  
Year 7 is a key time for transition, the combination of core studies and semesterised courses allow for deep focused learning while exploring the variety that the Senior School curriculum has to offer.
Year 8 is a key time for academic and personal development, the options in Year 8 allow for further academic challenges, creativity and growth while electives have been designed to enhance the core curriculum and provide students with an experience of knowing themself through choice that will better prepare them for Year 9 pathway selections.
The Year 7&8 Curriculum is enhanced by our Instrumental Program, Reading sessions, Liturgical Singing, Personal Formation and Sports.
In 2024, Year 7&8 join the Senior Campus at Barkers Rd at the purpose built Kostka Precinct. Students will have access to Library facilities, specialist classrooms in the Arts studio, an immersive drama space, a design and technologies workshop and digital technologies and Science labs.
More details can be found here.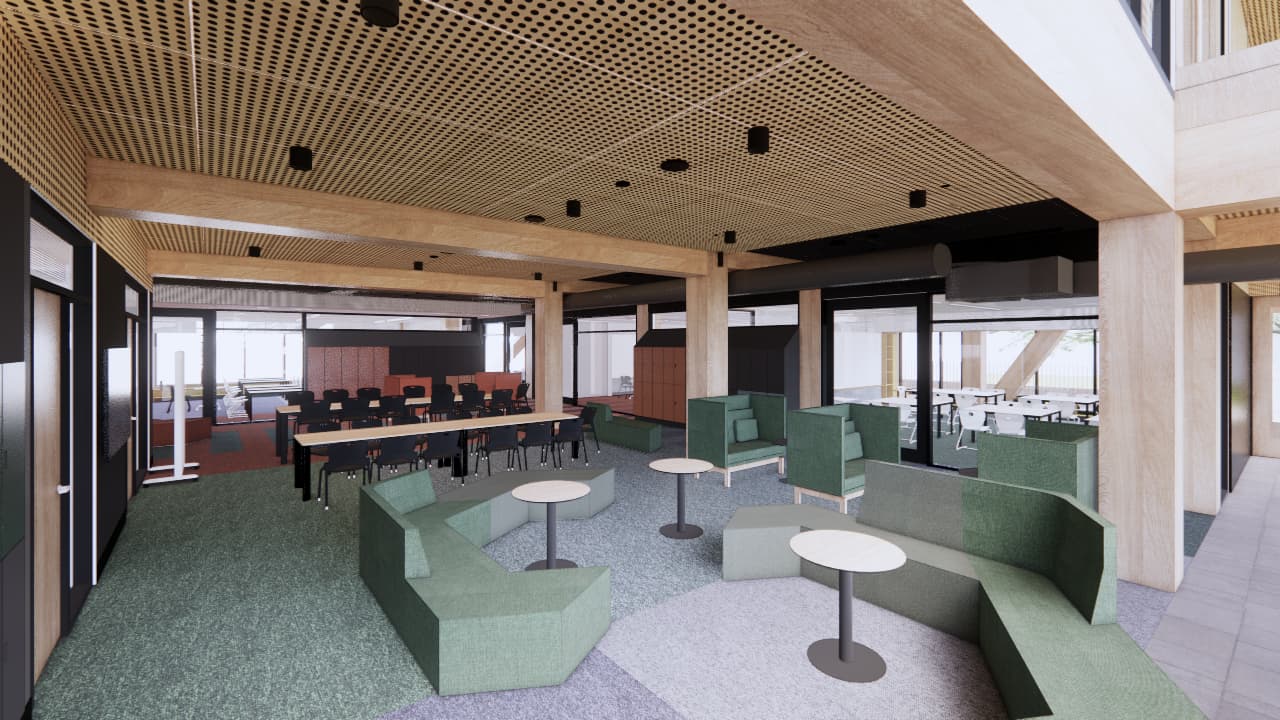 Senior Years (Year 9 to Year 12)
At the Senior School
In the tradition of Jesuit Education, we offer a Liberal Arts curriculum. In practice, this is done as an extension of the Core subjects through additional Major Studies in Year 9 and 10. The Major Studies cover Humanities, Arts and Languages. Students have a breadth of Languages, Arts and Humanities Majors to choose from. The breadth supports inclusion, diversity and engagement as well as providing opportunities to study content and subjects for passion, fun and enrichment. All of this aims to educate the whole person. 
The study of art forms is what makes us fully human and develops our God-given talents in artistic expression. Studying the arts also develops creative problem-solving techniques, skills required for contemporary workplaces all over the world. Students will also continue their study of Languages through to Year 9. The study of Languages provides opportunity for cultural understanding and the appreciation of linguistics. 
The Major Studies in Years 9 and 10 are a point of difference in the Xavier Curriculum. The subject options for students within the Major Studies are based on the Victorian Curriculum and have connected pathways to VCE courses. 
In Year 9 the Xavier College learning pathway is structured in the following way: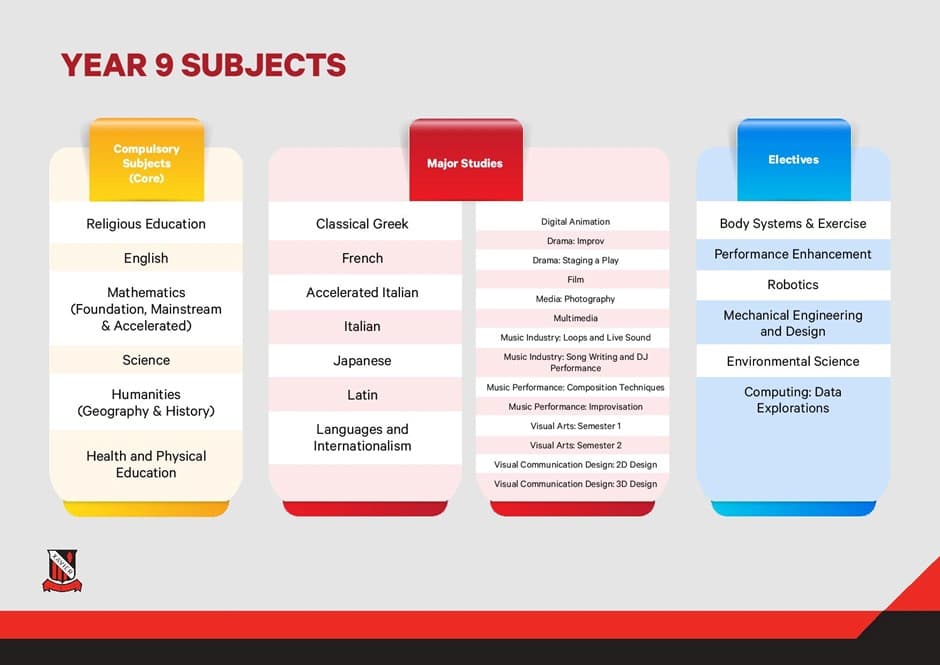 In Year 10 the Xavier College learning pathway is structured in the following way: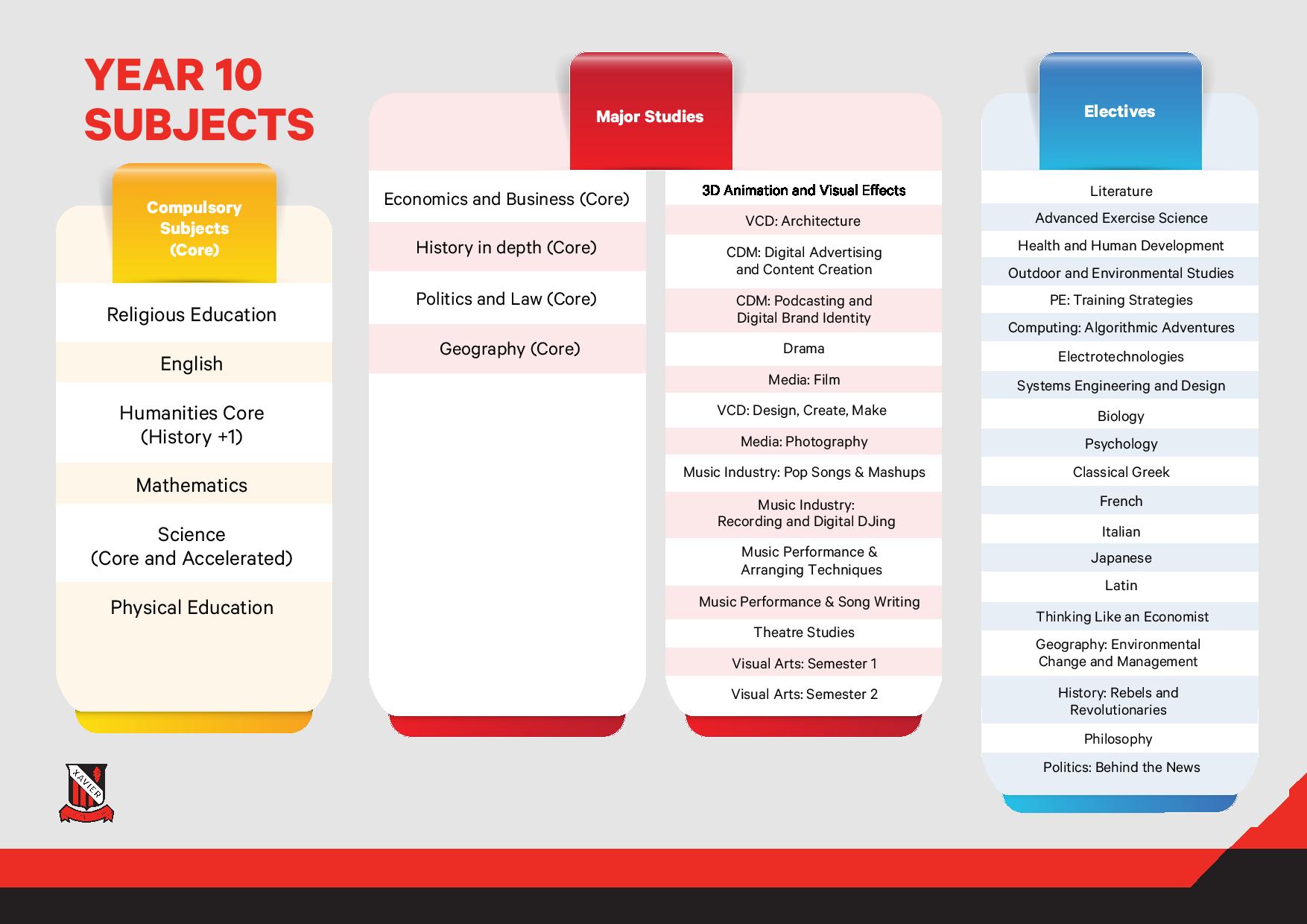 CLICK HERE TO DOWNLOAD OUR FULL CURRICULUM GUIDE FOR YEARS 9 and 10
In Years 11 and 12 students predominantly complete the VCE (Victorian Certificate Education) with the option of completing some VET (Vocational Education and Training) subjects either onsite or in connection with external providers and partner schools. Xavier College strives for each student to achieve to their full potential. VCE study pathways and subject offerings reflect our commitment to academic excellence. Xavier has a Head of Curriculum and Assessment and Head of Future Pathways - these leadership roles together with Tutors are pivotal to providing support, pathway options and advice to students.
CLICK HERE TO DOWNLOAD OUR FULL VCE GUIDE FOR YEARS 11 and 12
Our VCE teaching team include VCAA Curriculum writers, Assessors, Exam Developers and, they are involved in various expert teaching panels delivering professional learning.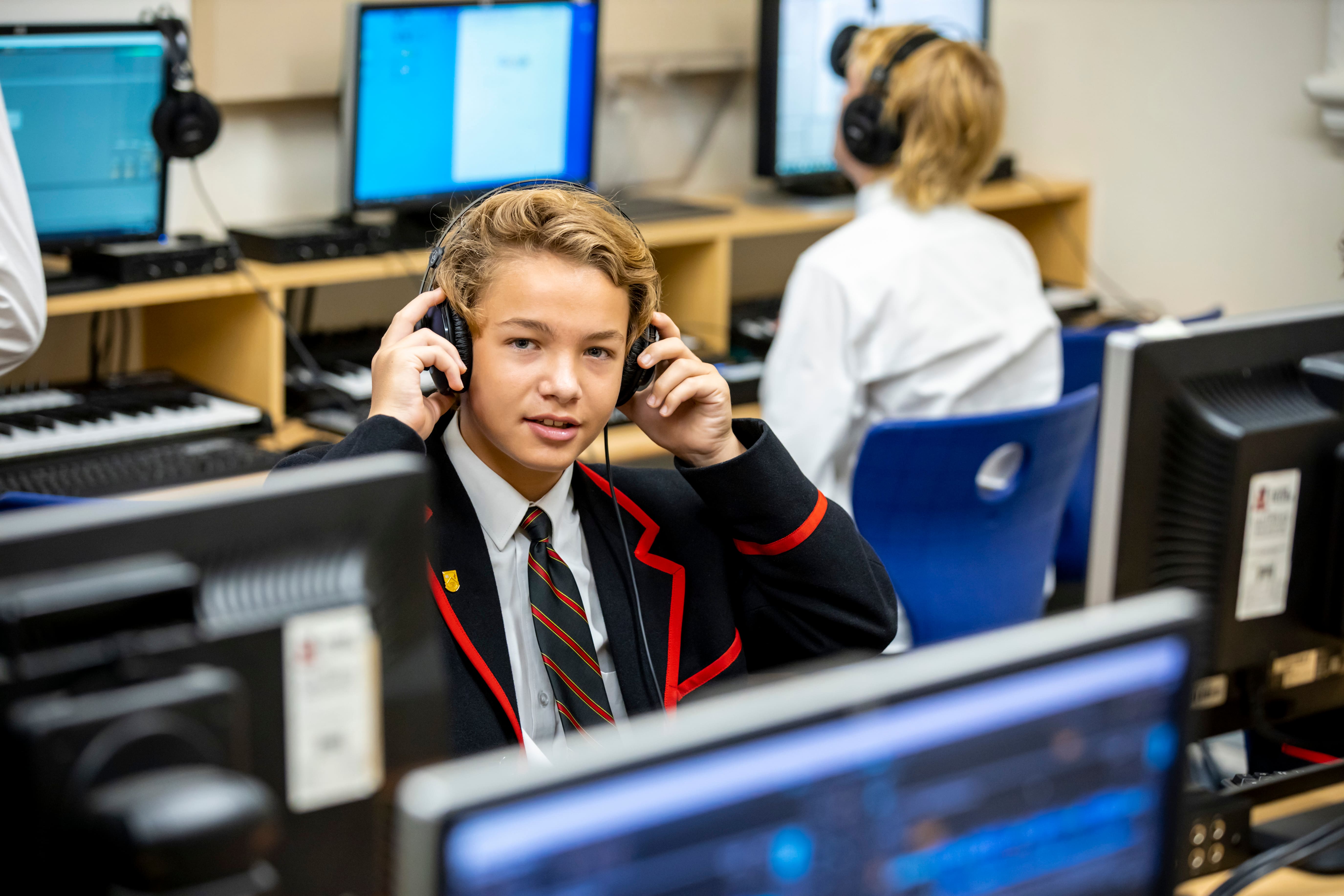 Linked in with our academic curriculum is the House and Tutor program. In the Senior Years, students are divided into 10 Houses. From Year 9 onwards, each student is assigned a member of our teaching staff who is a Tutor from within their House to oversee both their academic progression and overall wellbeing. Tutors are a part of discussions around course pathways and subject options, they are an important connector between parents, home and school and work as an advocate to their Tutor students. The Tutor and House system provides students with support, encouragement and a strong sense of community.