"The Boy from Boree Creek"
By John Fox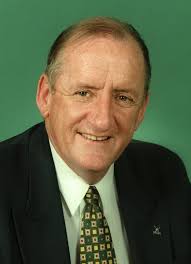 The Xaverian Award is presented to an Old Xaverian who shows a deep commitment to the ideals of St Ignatius of Loyola and a dedication to making a difference in the wider community through compassion, competence and conscience. This year, The Honourable Timothy Andrew Fischer AC (OX 1963) (3/4/1946 – 22/8/2019) was honoured with the Xaverian Award posthumously.
In early October in front of a packed Great Hall at the Senior Campus, College Principal Mr William Doherty presented the award to Tim's wife Ms Judy Brewer and son Mr Dominic Fischer.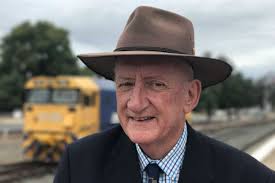 "The one thing that never changed about Tim was that there was a boy in him as well as a man," Ms Brewer said. "And that boy was always fascinated by things, and at times it was that childlike nature of Tim that made him so different and so authentic."
Ms Brewer recounted the time when she and Tim revisited the Great Hall at Xavier; "We went from [honour] board to [honour] board, and I said 'well, where are you?', and he said 'well I'm not on the boards, I wasn't even close to being on the boards' - and that was Tim". "He was just an ordinary man trying to do something different and good, and he spent his life doing just that".
The death of Tim Fischer (OX 1963) on 22 August, led not simply to an outpouring of grief, but also to an outpouring of tributes in appreciation of his life achievements, which had culminated in his appointment as Deputy Prime Minister of Australia.
The references to Tim Fischer's decency were many. Such an appreciation had led to the then Opposition Leader Kim Beazley stating in the House of Representatives, in response to news of Tim's unexpected resignation from Parliament in 2001: "You are one of the very genuinely loved people in this place". While his resignation came as a surprise, there was speculation that Tim considered that the needs of his young family had the strongest call on his time. He and wife Judy have two sons Dominic (OX 2014) and Harrison. (who has autism).
Tim was a regular visitor to Xavier. He was most generous in his support of his alma mater and we were blessed, as his visits here, which inevitably drew on his high profile, also revealed a past student with a strong connection to Xavier, a school to which he had also entrusted his son Dominic. He delighted in reminiscing about Jesuits who had taught him, past students who have remained friends and humorous anecdotes about life as a Xavier boarder in the 1960s.
Many published tributes mentioned his school days. He was miserable with homesickness at first and 'struggled to find his tribe at Xavier' said one journalist. He did not play football or cricket – he played chess! Yet he became a prefect, matriculated with honours and 'for a boy who could barely speak as a child', he won the school prize for Debating. By graduation in 1963 and in the years since, Xavier was very much Tim Fischer's 'tribe'.
His achievements were many, but it was not all plain sailing. There were issues where perhaps his religious faith and his political conservatism, led him to viewpoints which drew ire from people when he was seen to be unsupportive of some populist movements of the time. He was also honest if ever he felt his views had moved from his original stance. He was not inflexible, but if necessary, he could hold to his views strongly, he was, for example, a life-long opponent of racism. His bravery was reflected in his greatest achievement, when he supported tough gun control measures following the Port Arthur massacre in 1996. This was a particular challenge for him given his political constituency. How unnerving it must have been for him to attend rural meetings to see effigies of himself being hanged or burnt outside meeting venues. 'Bravery' is a most accurate epithet. The revised gun laws were regarded as the strongest in the world at the time. There had been 13 gun massacres in Australia between 1979 and 1996. Since 1996 there haven't been any.
Tim Fischer suffered poor health during the last 10 years of his life: bladder cancer, prostate cancer, melanoma and leukaemia. He was quite open and matter of fact that it was probably his exposure to Agent Orange in Vietnam, which was behind these health issues. Ultimately he was to lose his battle with acute myeloid leukaemia on 22 August 2019. At Xavier College we honour the life of service of the 10th Deputy Prime Minister of Australia. We pray for him, his wife Judy and their two sons Dominic and Harrison.
Tim Fischer was once asked early in his career what was the greatest moment in his life thus far. He answered that it was "coming home", steaming through Sydney Heads on his return from Vietnam. With news of his death, Tim is coming home once more, surrendering in trust and love to his Lord: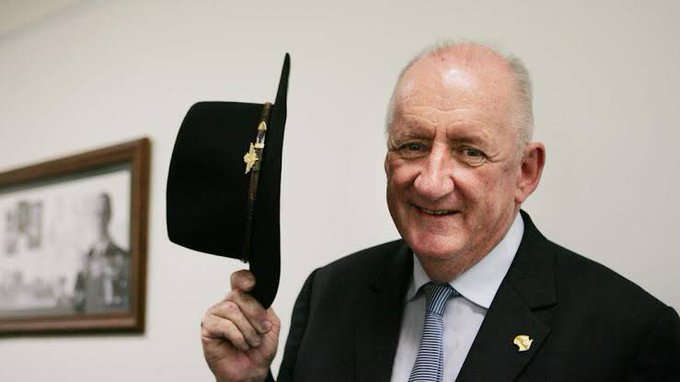 "Yes, we are full of courage and would much prefer to leave our home in the body, and be at home with the Lord." (Corinthians 2, 5:8).