Barry O'Callaghan exemplifies a life-long connection to Xavier College, a place where he came to learn and a place he chose to serve as both a school boy and as an Old Xaverian. 
In an interview, Barry reflected on his arrival at Kostka Hall in 1948 and his graduation from the Senior Campus in 1954, after two years Matriculation. Barry was the oldest of six children (Barry, John, Peter, Tricia, Elizabeth and Judy) and with his two brothers were the first generation of the O'Callaghans to come to Xavier. 
He was followed here by his son David (OX 1985) and has two grandsons currently in the College, Declan in Year 5 at Kostka Hall and Lachlan Townsing in Year 8, also at Kostka. Barry's involvement at Xavier has seen him present and involved in virtually all of its major developments since his own school days. 
Barry's professional life was spent as a lawyer working for Corr and Corr (later Corrs Chambers Westgarth), although his original aim had been to work in commerce with his father. Nevertheless his career in which he began as an articled clerk soon blossomed at Corrs, becoming a partner at only 23 years of age and he remained with them as a partner for 42 years retiring in 2002, although three further years as a consultant saw him connected to the firm for exactly 50 years. His areas of speciality were property, both commercial and residential, wills, probate, building, town planning which all led into general commercial work and he was for the last 15 to 20 years of his full time working life a Non-Executive Director on Boards of a number of Public and Private Companies and Foundations. 
Barry married Claire (Kennedy) in 1961 and together they have been a constant presence at Xavier, supporting the College and the Jesuits. He joined the OXA Committee in 1962, was Old Xaverians' President in 1974 and warmly recalls the support in this role he gained from two of his predecessors Tom Molomby and Frank Sweeney. An invitation from Father Jim Dynon SJ to "help out with the Fair" saw him Chairman of the Xavier Maytime Fair Committee through the 1970s. Barry and Claire actually visited the Jesuit mission at Hazaribagh where the work of the Society of Jesus had a profound effect on him.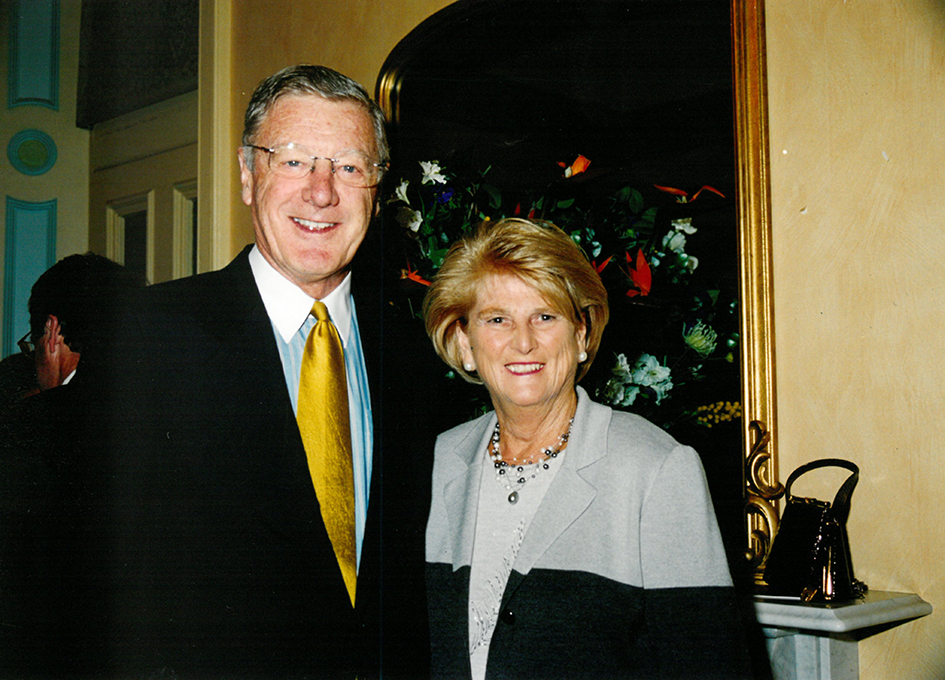 Barry was a member of the steering committee made up of four Old Xaverians who worked through most of 1977 preparing for the setting up of the Xavier College Foundation which was launched on October 6, 1977. Barry remembers attending 52 separate Foundation functions with various stakeholder groups. In discussing his many professional involvements and his time supporting Xavier, he paid a very warm tribute to his wife Claire, "without her, none of this would have been possible".
Barry's friends say they learnt much about Xavier College by sitting around the dinner table with the five O'Callaghan children, Sally, Jenny, Fiona, David and Megan. An invitation to sit on the College Finance Committee at the time of a significant renovation of the South Wing, led to his joining the School Council following its formation in 1990. Barry became the second Chairman of the Xavier College Council from 1993 to 2001. He also looks back in gratitude to the time when the Council led the College to a transition to lay principalship with the appointment of Mr Chris McCabe. 
It is both interesting and gratifying to hear Barry reflect on his connection and indeed his affection for his alma mater. His first expression of thanks is to his parents. His father had returned after four years overseas war service and with six children to educate, things were not easy. He feels it was "a fantastic decision of Mum and Dad to send us to Xavier". 
He loved the atmosphere of the College and "everything that the Jesuits stand for. The imparting of their values encourages you to bring those values to the community at large. They educate leaders in the community which is so important. They gave me an education and a self-confidence to do things. If you've been given talents by the Lord, you have an obligation to use those talents; they are gifts which you must pass on. If I have any talents at all, it seems to be an ability to get people to work together as a team, for the betterment of all. Many times though I feel one gets far more out of this than one puts in".
The list of Barry's involvement in other enterprises in his CV is indeed impressive. It includes being Chair of the John Pierce Centre and Mercy Health and Aged Care, on the Diocesan Finance Council; Catholic Homes for the Elderly; the Committee for Melbourne and the RMIT Graduate School of Business. In summation, so much evidence of a 'Man for Others'. Barry was awarded an AO in 2002 and in 2005 a papal knighthood. 
The Xaverian Award is presented to an Old Xaverian who shows a deep commitment to the ideals of St Ignatius of Loyola and a dedication to making a difference in the wider community through compassion, competence and conscience. Barry O'Callaghan AO (OX 1954) was presented the award by Principal Mr William Doherty and Chair of the College Board Mr Frank Peck at a Rector's Assembly in 2018.
"I'm a great believer that the good Lord gave each of us certain skills and he expects us to use those skills as well as we can to make us better people in ourselves and in the wider community," Barry said upon receiving the award.
Barry O'Callaghan's life was one of generosity, devoted to his faith, his family, his career in Law, his alma mater and a life devoted to the Jesuits and "the Ignatian way of proceeding". He sang his school song, indeed he lived it. May he rest in peace.